Who is Marko the Pencil?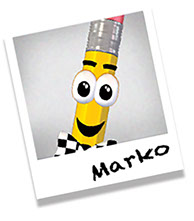 Marko the Pencil is one of Rock 'N Learn's most loved characters. Born in mythical "Pencilvania"—from a tree forest of course—Marko discovered at an early age that he has a real knack for making kids laugh and helping them understand material for a test. His gentle coaching and humor allow students go into tests relaxed and prepared so they succeed. Marko explains, "There's no business like show business, and I can help you become a super show-off in the classroom." Reading, writing, math, science—are all Marko's specialties.
In the evenings, Marko performs at the Golden Stylus Comedy Club. Mike Mechanical—a mechanical pencil who manages the Golden Stylus, says, "Marko is one sharp pencil who knows how to get everyone laughing." Marko appears on Rock 'N Learn's Reading Comprehension, Math Word Problems, Writing Strategies, Physical Science, Earth Science, Life Science, and Human Body. Plus, he helps kids understand what multiplication is all about on bonus chapters of Rock 'N Learn Multiplication Rap and Multiplication Rock DVDs. These DVDs have won numerous awards and received rave reviews from educational associations, parents, teachers, and kids.
All Rock 'N Learn science DVDs feature Marko's Super Science Station where learning is a blast (sometimes literally)! Clear explanations and fun examples cover science topics such as parts of an atom, properties of minerals, and the human digestive system. Whether students need to prepare for a test or simply love learning about science, these DVDs hit the mark. Specifically developed for the fifth grade, younger students (often as young as preschool) and older students (even parents and grandparents) enjoy the entertaining characters. As one 81-year-old great grandparent recently said, "I laughed the whole time and learned things I never understood before!"
Marko's voice is played by actor Vic Mignogna, whose Italian ancestry fits perfectly with Marko's character. Vic won 2007 Best Actor – American Anime Awards and enjoys a large fan base from the dozens of popular anime titles and video games that showcase his talent. Vic's spontaneous ad-libs frequently make it into the final soundtrack of Rock 'N Learn programs.
Rock 'N Learn has been around since 1987 and produces a wide variety of audio and DVD programs to make learning fun, including the best-selling Multiplication Rap and Letter Sounds and many other award-winning DVD and audio CD programs. Incidentally, Multiplication Rap DVD has been revised to include new animated characters. Plus, we've included a new bonus section that features Marko the Pencil: What Is Multiplication? Discover more about Rock 'N Learn's award-winning kids educational DVD and CD programs HERE.